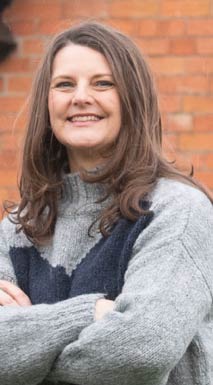 I first learnt about Forest School on a university trip to Denmark where I was inspired by not only the skills and self-confidence of the young learners there, but by their self-regulation and ability to work collaboratively.
23 years later, after a wide range of teaching experience in the primary sector, I had the opportunity to deliver outdoor learning. Seeing the children's confidence grow as they embraced the outdoors sparked the idea that I could use the woodland on our family farm to create my very own Forest School.
I did my Forest School Leadership training during 2018 which fueled my idea and gave me the skills and confidence to establish Woodland Nurture in September 2019.
My vision is to create a safe, friendly space where children and adults feel welcome, valued and can learn new skills whilst having an enormous amount of fun. Somewhere for everyone to reconnect with nature.
I have a strong belief in active, child initiated learning and a keen interest in nature. My personal ethos of take care of yourself, others and the world around you is reflected strongly in the ethos of Forest School.
My qualifications include a B'Ed (hons) from Liverpool Hope University; Reading Recovery; Forest School Leader Level 3 ; FAA Level 3 Award in Principles of Safeguarding and Protecting Children, Young People or Vulnerable Adults; Paediatric and Outdoor First Aid and Level 2 in food safety and hygiene for catering.
During Lockdown I have gained three new qualifications: CACHE Level 2 Certificate in Understanding Children and Young People's Mental Health; TQUK Level 2 Award in the Prevention and Control of Infection (RQF) qualification and TQUK Level 2 Certificate in Understanding Specific Learning Difficulties.
When my head's not in a book, I am generally found outside in the garden, walking the dogs or at a music concert!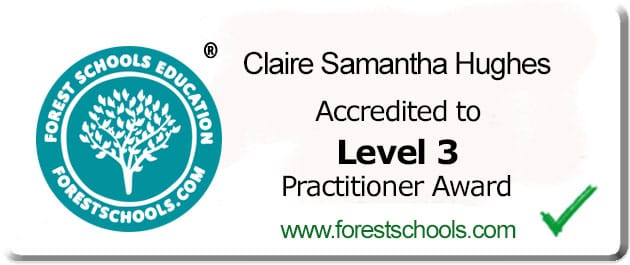 ---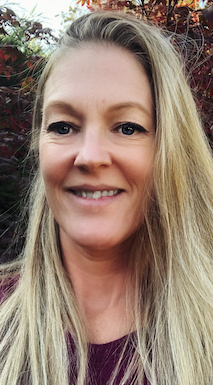 With a back ground in costume design and experience with performance and leading children's creative workshops, I have been lucky enough to work with children and adults in all manner of outdoor spaces. Coupled with a love of the outdoors and an understanding of the vital roll that nature based, child led, self initiated learning provides, becoming a Forest Schools Practitioner was the most natural next step! It has been an incredibly exciting and rewarding journey.
For the last three years I have worked in a preschool setting as part of team, taking children out for weekly Forest school sessions at a local woodland. During this time I have also worked with a local company helping to run a FS after school club and regular holiday club sessions with key stage 1 and 2 children.
Together we have embraced the changing seasons, braved the chilly winters and happily squelched our way through the more wet and muddy months. It has been incredible to watch the children grow, their well-being flourish and their innate natural abilities to investigate, question, discover and learn, develop and thrive.
I am now embarking on my L3 leadership training with FSE and thrilled to be working with Claire at Woodland Nurture.
I have been a parent for the last 16 years and together as a family we dabble in archery and climbing and can often be found hanging out in the Derbyshire Dales.
Training and qualifications include;
L2 Forest Schools Assistant
Paediatric First Aid
SafeGuarding
Prevent Awareness
---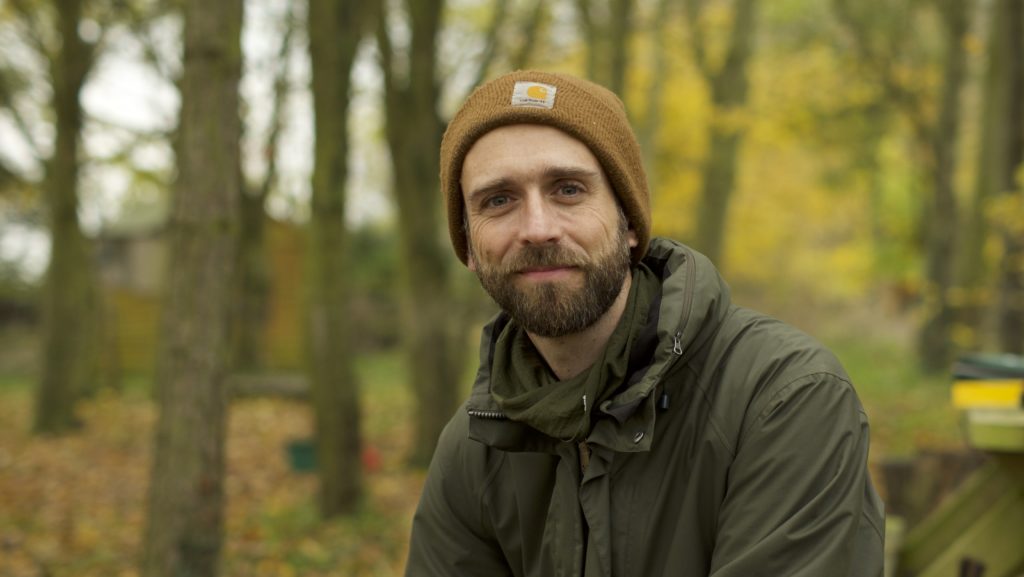 I started my career working in the music industry, but felt a strong pull to work in the outdoors so I retrained in Horticulture, Permaculture Design and Garden Design.
Being a dad of two and having concerns over our disconnection to the living planet I felt the need to use my passion for nature to help educate others. I became a Forest School Leader so that I could help children connect with the natural world and regain some of the balance missing from our fast paced lives. I love all aspects of Forest School, but I especially love climbing trees, foraging, firelighting and whittling.
I work in the East Midlands leading Forest School sessions, teaching mindfulness classes and teaching gardening. In my spare time, I enjoy yoga, running and spending time in nature with my family. I am also a committed environmental campaigner.
I am a qualified outdoor First Aider, a Level 3 Forest School Leader and trained in Effective Safeguarding Practice (Level 2). I am trained in teaching mindfulness to children through Calm for Kids.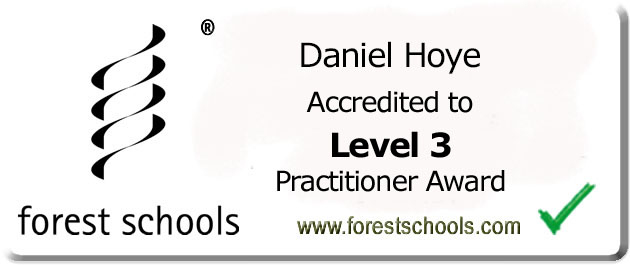 Zoe Syson – Assistant.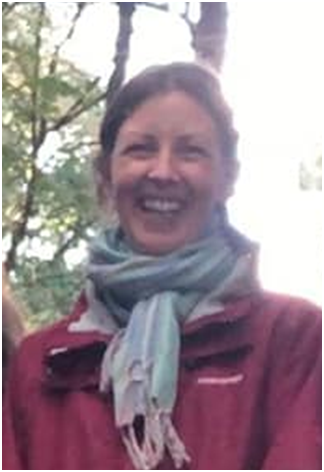 I am delighted to join the team at Woodland Nurture. I live with my Husband, 2 children (11 and 14) and 2 dogs Sizzles and Poguss.
My career started in performing arts and after completing a 3-year dance diploma at the Urdang academy London I travelled extensively working with Norwegian cruise lines entertainments team.
After running summer camp dance classes for youngsters, I decided to follow my Mums footsteps into teaching and completed my Batchelors degree in Education and drama at Bishop Grosseteste College Lincoln and gained qualified teacher status in 2007.
Family life took me away from the classroom when my oldest child was diagnosed with autism. This moment spurred me on to learn everything I could to support him and raise awareness about hidden disabilities and champion inclusion.
I hope from sharing our family's experiences of life with autism, pathological demand avoidance (PDA), sensory processing difference and dyslexia we have helped others along the way. I co-authored a booklet about Pathological demand avoidance which has received huge support and can be download for free at;
https://www.pdasociety.org.uk/resources/information-booklet-from-zoe-syson-and-dr-emma-gore-langton/
I went back to university in 2016 to do a postgraduate in Autism studies focusing on psychological theories, communication and understanding the function of behaviour.
I have always felt strongly and passionately that being outside in nature removes many barriers our children face in formal mainstream settings. What is often seen as a problem behaviour in one environment, with sensory overload and communication differences, can instantly diminish in the calming woodland environment.
In 2017 I set up a community interest company, 'Soul Sensory'. The project started from personal experience of taking our children to festivals and feeling there wasn't an area dedicated to youngsters with sensory needs. We made a sensory dark den tent and provide calming activities to reduce stress and sensory overload but most of all we provide an inclusive environment for people to support each other!
So, when I have 5 minutes, I enjoy walking, yoga, music and my dogs!