Forest School for Home Educated Children and those that Flexi-School.
At Woodland Nurture we offer a safe space where children can learn to problem solve, take turns, negotiate, collaborate, resolve conflicts, regulate their emotions, be creative and use their imagination.
Our code is Care for Yourself; Care for Others; Care for the Environment.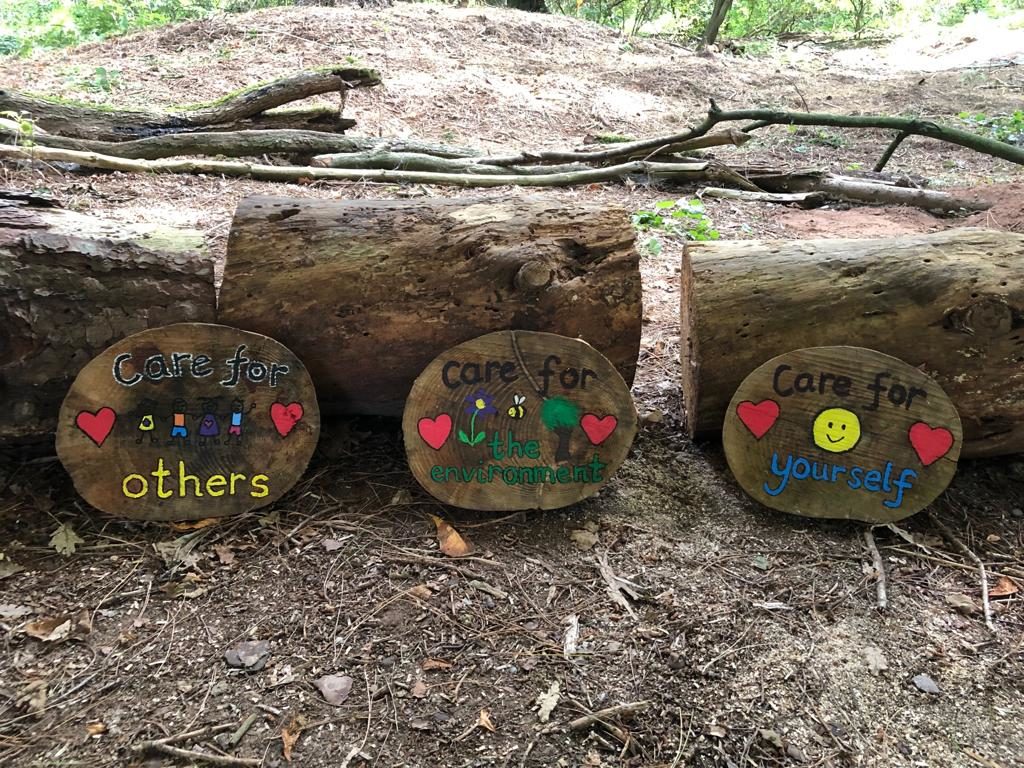 Our current adult:child ratio is around 1:4 and will never exceed 1:8. We value each and every one of our children and I believe that having the right level of support is key to success.
As our numbers have grown, I have taken on new staff . We are now a team of 6, bringing fantastic support and a wide range of experience and skills.
Myself, Laura, Poppy and Kate are Forest School Level 3 trained. Kate and I are both ex-primary teachers. Poppy is also currently completing a Foundation Degree in Childcare.
We also have Sarah and Hemendra with us this term.
We are a very dedicated team with a wide range of skills and a shared ethos of connection – with each other and with nature.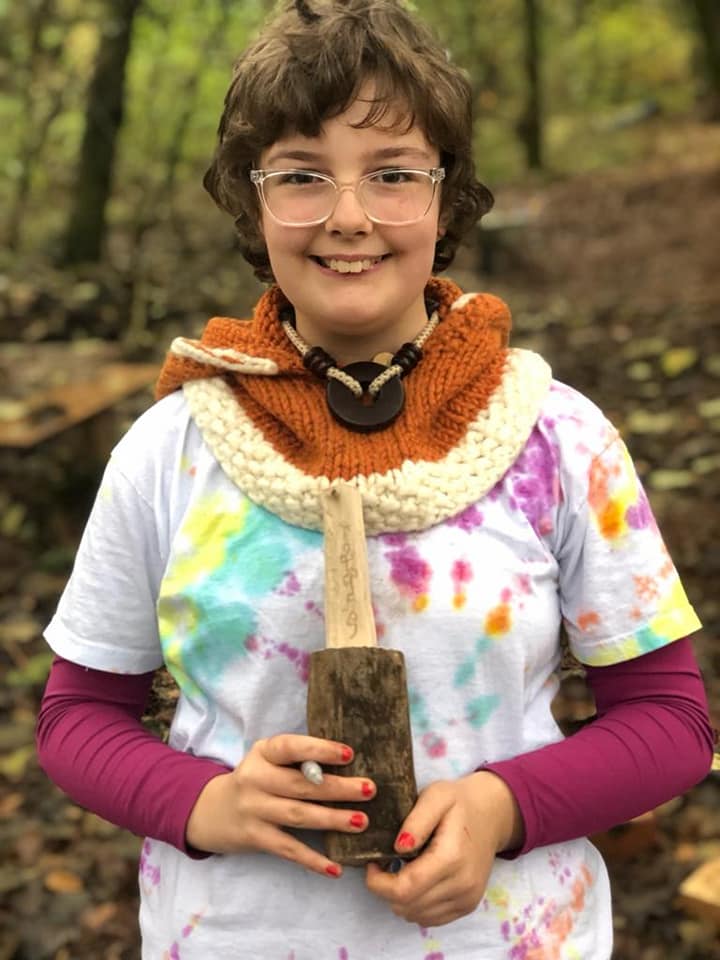 We believe that learning to take risks is an important part of child development, helping to build resilience and confidence. We teach children how to manage their own risks to build on their independence. Our continuous provision includes a zip wire which the children (and adults!) find exhilarating and a Ninja assault course.
The sessions are child-initiated. We love it when the children become totally absorbed in a game or activity that they have created with their friends. We have a wide range of loose parts which provide hours of entertainment. A current favourite with our Tuesday group are a selection of drain pipes which are repeatedly used to create elaborate golf ball runs. The learning through play is exceptional – we believe we are helping to create future engineers, collaborators, scientists, negotiators, problem solvers….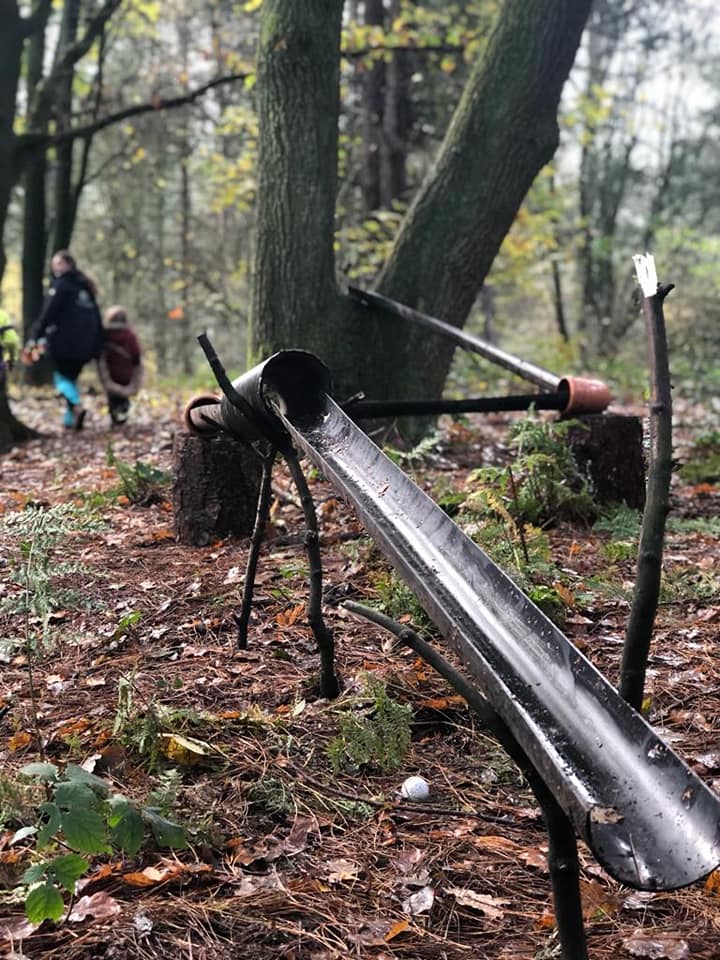 We focus on the whole child with the aim to build self-esteem; core strength and coordination; resilience; confidence and friendships through SPICES – social, physical, intellectual, creative, emotional and spiritual development.
Our aim is that each session will meet the holistic needs of individual children through a wide range of experiences including den building; tool use; science experiments; bird watching; mini-beast hunting; tree climbing; playing team games; natural art; campfire cooking and much more.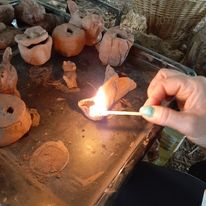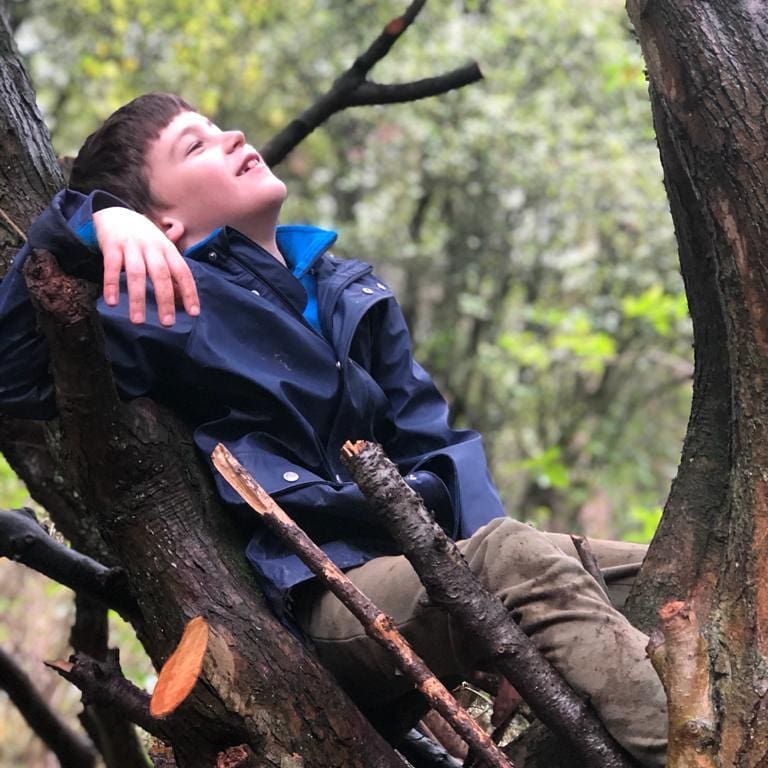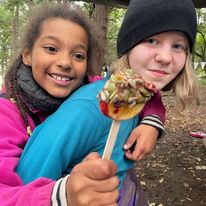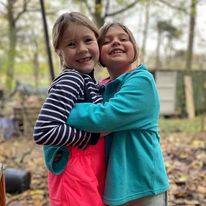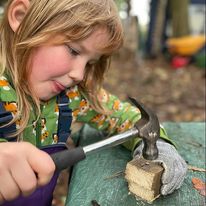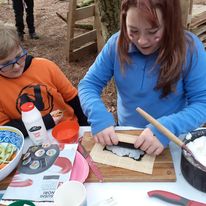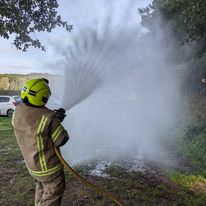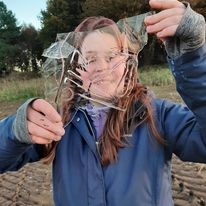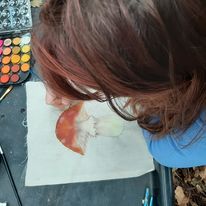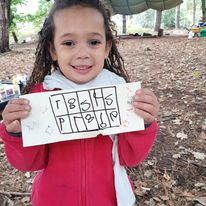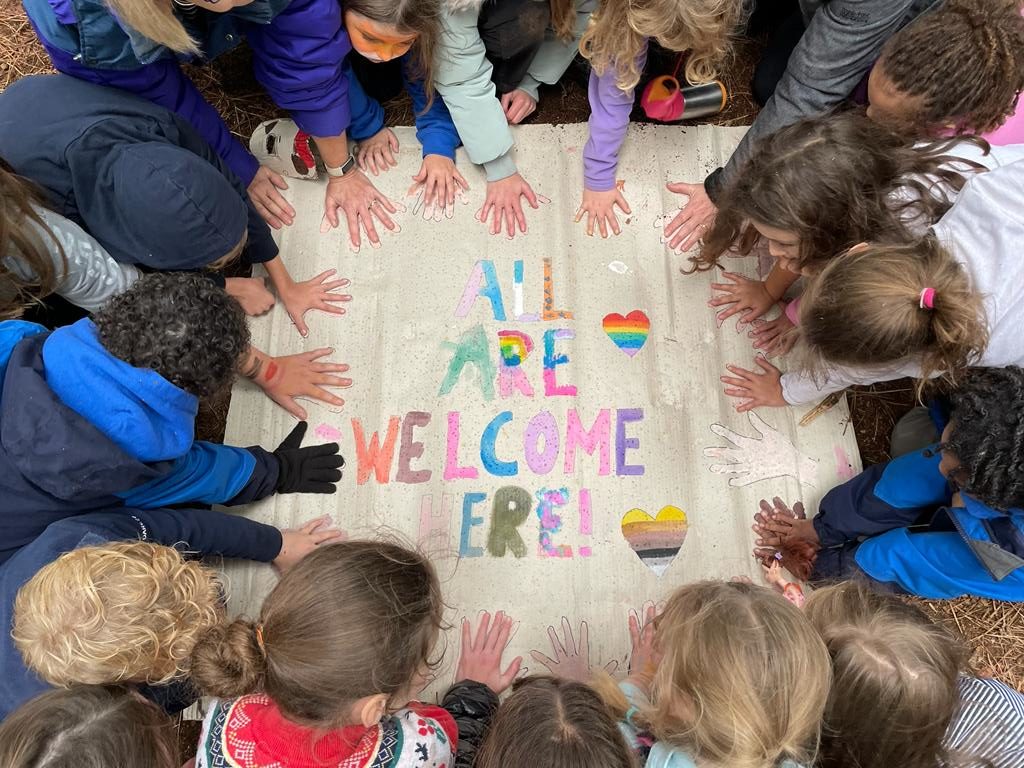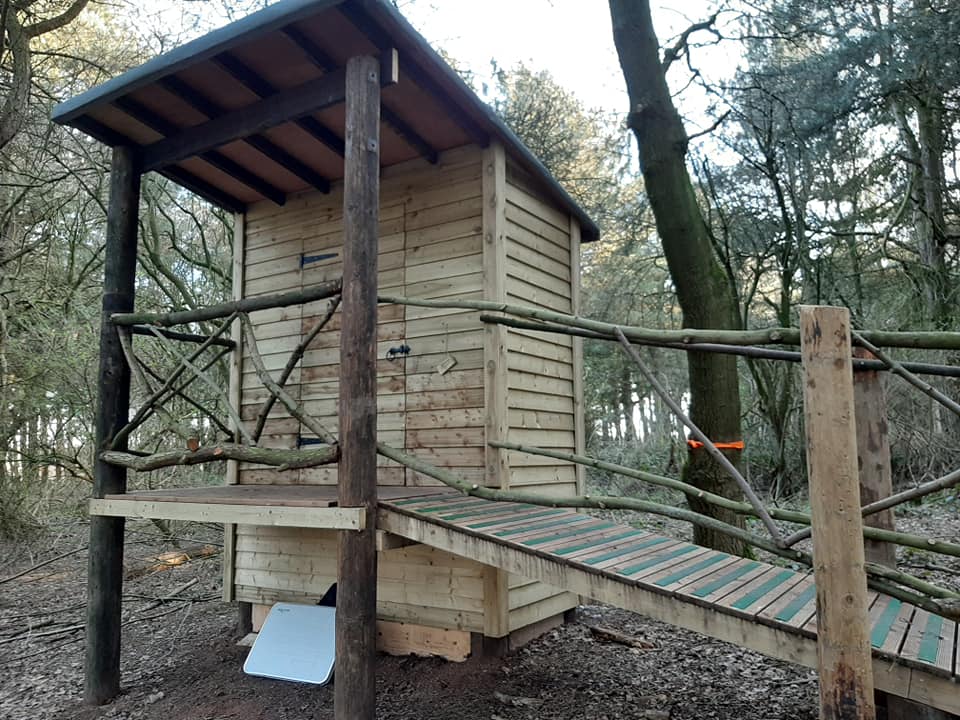 We are very fortunate to be on a permanent site. We have a shipping container stuffed full of resources from tools to dressing up clothes. If the children come up with an idea we can generally find the resources to support and enhance it! We also have the luxury of a super smart composting toilet on site as well as a pizza oven!
For a list of suitable clothing click here.
Sessions will run in every weather condition except high winds or electrical storms, in which case we will give as much notice as we can. Keep an eye on notifications via Face Book and text messaging.
Our Tuesday Home Ed Group is for ages 5-14 on termtime Tuesdays from 10am to 3pm
This 5 hour session is £31 for the first child and £26 for siblings if you book the termly block. It is a little more if you choose to attend ad hoc.
Children will need to bring a packed lunch, a healthy snack and plenty to drink.
Thursday Home Ed Group is for ages 5-14 on Termtime Thursdays from 10am-3pm.
This is also £31 for the first child and £26 for siblings per session if you block book, and a little more for ad hoc.
Children will need to bring their own healthy packed lunch, snacks and plenty to drink.
We have created a vegetable patch with polytunnel at the edge of the woods. The children are learning to grow, tend, harvest and finally eat their own produce.
Wednesdays: There are 2 options for Wednesdays. Children can attend a full day 10am-3pm or half day 12.30pm-3pm
The Wednesday afternoon sessions run from 12.30pm – 3pm and is £16 per session, (£13 additional siblings) if you block book and a little more for ad hoc.
The full day Wednesday session (10am-3pm) is £31 first child, £26 siblings if you block book, and a little more for ad hoc sessions.
Poppy leads Wednesday session with Claire, Kate and Sarah. Ee have so much fun being led by the children's interests. This group love cooking and bushcraft and nature crafts.
Sessions are bookable termly and payable in advance.
You can book by clicking this link https://woodlandnurture.pembee.app.
If you are interested in booking a place for your child, please contact Claire on 07866882425 or email claire@woodlandnurture.co.uk
I am always happy to chat and to give you a tour of our beautiful setting.
We ask all new families to complete "All About Me" forms for the attending children which help us to build up a picture of the child and therefore meet their needs as best we can.
We are Ofsted Registered and can take a range of Childcare Vouchers.
We love what we do and think we have the best job in the world.
Here's what some of our families think…
"Woodland Nurture has truly been the highlight of our Home Ed life! My boys have truly blossomed in terms of their social, emotional, physical and mental development. They come home covered in mud with sparkling eyes telling me of all the wonderful things they have been doing – playing, climbing, exploring, experimenting, enjoying delicious food cooked outdoors! What a beautiful space for children to truly enjoy being children, with attentive staff who give the children space to grow and learn but support when it is needed. I can't recommend this setting and the staff enough
"
"Woodland Nurture is a magical place. Upon arrival, heading up the wool signal pathway, you sense that adventure awaits. As you enter 'basecamp' with its open communal fire and large tarp, you see kids dotted around, playing in groups or alone, engrossed in the various fun activities on offer, or a random game they've invented that day. My son adores his home ed sessions here, the team look after him whilst at the same time allowing him be an inquisitive playful child. A sense of camaraderie is fostered by Claire and the team, with old and young alike playing and learning in tandem. after the session my son is mud-spattered and full of stories of the marvelous time he's just had, that is testament enough as to how great this place is. Keep up the good work!"
"Our 7 year old has just finished her first term in the Home Ed classes on a Tuesday. In just 6 weeks we've seen such a positive change in her. She's much more confident, happy and her bedtime anxiety has left her. It's her favourite day of the week because In her own words "it's like going home to the forest". All of the staff are incredible and the facilities perfect for any little wildling."