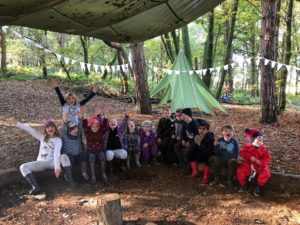 Why not have your next party in the woods!
An unforgettable party for your child and their friends.
Activities can include team games; den building; woodland crafts; mini beast hunting and free time to climb trees and explore.
We can theme the party to suit your child.
Themes might include The Gruffalo; Robin Hood; Superheroes; Nature Detectives; Witches and Wizards; Fairies….or where ever your child's imagination would like to roam.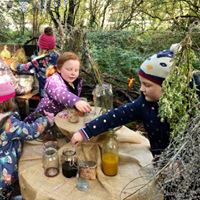 The parties last for 2.5 hours.
Soft drinks will be provided throughout the party as will teas, coffees or hot chocolates for the grown ups.
We request that at least 2 adults stay with the party. If numbers exceed 16 that would increase to at least 4 adults.
Birthday party invitations can be found here.
A list of recommended clothing can be found here.
Parties are priced at £220 for 16 children with £10 a head for numbers beyond 16, up to a maximum of 26 children.
This price includes either toasted marshmallows or popcorn.
Catering:
There are several options for catering:
Bring your own sandwiches/party food at no extra charge.
We will provide Hot dogs/Veggie equivalent for an extra £2.50 per head
Which ever option you choose, we will assume you are providing your own cake.
A non-refundable deposit of £50 is payable on booking.
The balance is payable by the date of the party.
Woodland parties take place in all weathers with the exception of very high winds or electrical storms. In rare circumstances we may need to reschedule parties as a result of severe weather conditions causing safety issues. We will contact you if this is likely to be problem at your party and try and find an alternative date.
If you have any questions please get in touch.

Here are some party reviews…
"Monty had a fantastic 10th birthday party with Woodland Nurture in the woods, such fun had by all – one year old through to the parents. Den building, rope swings, hammocks, craft, games, laughs.
You just can't beat sausage cobs cooked on the fire! Brilliant as always."

"Devon had the best party ever! Everyone that came said they would go again and would use you for future birthday parties. We wouldn't hesitate in booking you again! What an amazing experience for children to explore and toast marshmallows.
We loved it! "
"My daughter had the most wonderful birthday party with her friends in the woods a few weeks ago. They made potions, dream catchers, climbed, built, made music and played 123 where are you in the woods…with a birthday lunch around the camp fire! She even found her own birthday fairy stone in the woods. Claire and Laura have created such a magical place for children to explore and have fun…they all said it was the best party ever! Thank you soooo much!!"
"We had a party this morning for our 5 year old and his friends. It was amazing!!!! All the kids had such a fun time. I would not hesitate to recommend you a hundred times over. The woodland experience is invaluable, thank you Claire and Neil for everything you do to support and make this available for the children."